When mentor, Nick Curruthers, met Gaynor Mahoney, she was unsure of what direction to take her career. She had worked as a customer service supervisor for 13 years, when she was unexpectedly made redundant. Finding herself out of work was a big change in her life. Concerned at the prospect of looking for a new job at the age of 60, she decided to make the most of the opportunity and get herself away from a desk job.  
Gaynor had approached her local job centre for some advice, where she was put in contact with PRIME Cymru, by whom she was placed with a Mentor, Nick. On Gaynor and Nick's first meeting they discussed Gaynor's love and passion for craft work and clothing. This love for crafting inspired Gaynor to consider starting her own business, with a dream of having her passion create an income. 
Gaynor and Nick discussed business ideas, identifying a gap in the Neath Port Talbot area for handmade and personalised gifts made to order. Here began Gaynor's business: Personaliseit NPT. Specialising in vinyl printing and embroidery on clothing. She hopes to soon make the addition of her handcrafted ornaments and tabletop crafts.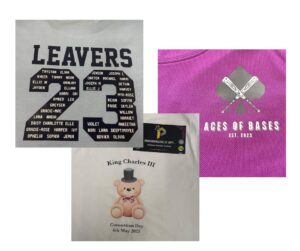 The creative side of the business came easily to Gaynor, Nick said "it has been so rewarding mentoring Gaynor as she is passionate about craft making, she just needed guidance with business basics like setting up an accounting system and insurances. That's where I came in." Gaynor said, "Nick has been marvellous. He was especially helpful with the practical aspects of setting up the business, which I would have found incredibly difficult figuring out on my own!"  
When he isn't mentoring, Nick is a train driver at Margam Park. The park recently acquired Gaynor's services, having the Margam Park train driver's uniforms updated with some stunning vinyl printing. Quite the full circle moment for Nick as a mentor, having seen the business grow from the ground up!  
Mentors can be a huge help when setting out to begin a new business. If you'd like to become your own boss like Gaynor, but feel you could benefit from some guidance, reach out to PRIME Cymru today on 01550 721813 or email enquiries@primecymru.co.uk.