Stephen Owen, aged 60 from South Wales, has always admired the police, so was over the moon when PRIME Cymru was able to help him secure a volunteering position with Neath Police Station. 
Stephen, who has Down's Syndrome, is now an Adult Volunteer with the Community Safety Team. He volunteers once a month, helping with tasks in the office and attending events such as the Family Fun Day, where he gave out leaflets, offered crime prevention advice and helped children take fingerprints.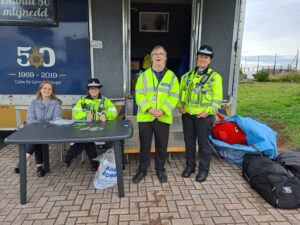 Having his volunteering to look forward to made a huge difference when Stephen recently had health problems. 
Stephen's Shared Lives Carer, Jan Garvey, said: "His volunteering role was instrumental in ensuring he was brave enough to go through with his surgery – knowing he could continue his police work when he was recovered." 
Sergeant Timothy Barrell said: "Stephen has become a valuable member of the team and now that we are seeing more public events following the pandemic, he will be seen across the Swansea Neath Port Talbot division in the future. 
"As a police service it is important that we reflect the communities we serve and we are delighted to have Stephen on the team." 
PRIME Cymru is delighted to have given Stephen this opportunity. If you would like help to fulfill a goal, such as securing a dream job, setting up a business, receiving some training or finding a volunteering position, get in touch on 01550 721813 or email enquiries@primecymru.co.uk.