To commemorate our 20
th
 anniversary, we re-visited some of our former clients to find out what they're up to now.
Since PRIME Cymru was founded in 2001 by HRH The Prince of Wales, we have engaged with over 100,000 individuals, helping many of them back into employment, self-employment, volunteering or training. 
We work with anyone aged 25+ who is out of work or under threat of redundancy. However, many of our clients are over 50, as the charity was set up by His Royal Highness in order to support this age group, who are typically vulnerable to age discrimination.
To this day, people aged over 50 find it hard to compete with their younger counterparts – a problem that has been exacerbated by the COVID-19 pandemic.
Throughout the lockdowns, we continued to support our clients, with Development Officers meeting with clients over the phone, email or video call.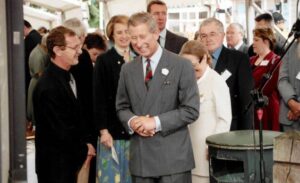 HRH The Prince of Wales at our first event 20 years ago
Re-visiting former clients
Each of our clients has a unique story to tell. We love to build people's confidence by identifying their strengths and finding ways to upskill.
Over the years we've helped set up a diverse range of businesses such as dog-grooming, bio-energy healing and strawberry farming, to name just a few. At every point between the very early stages of research to finally starting-up, our expert mentors cater to each individual's needs. 
Nearly 20 years ago, Phil and Liz Prosser came to PRIME Cymru for support with their meat business. They went on to win the PRIME Cymru Entrepreneur of the Year award and were invited to present their poultry to HRH The Prince of Wales at an event for over-50s entrepreneurs.  
Liz said: "We created in fact a monster as it grew beyond our wildest thoughts, thanks to the wonderful support and advice from PRIME Cymru. 
"I had written a proposal for our project but all the planning permission, bank loan grants, staffing, regulations and accounting was a real minefield. Luckily, a friend suggested PRIME Cymru and we contacted them and were overwhelmed with the support we received from day one.  
Phil and Liz Prosser with HRH The Prince of Wales
"With our own special mentor, we felt we had support from early construction to end-product. The strength of PRIME Cymru was the expertise of the team who had 'been there, got the t-shirt'." 
Now in their 70s, Phil and Liz have emigrated to France and trade as M Cochon in the Cherente region. Despite the Coronavirus lockdown, their business continued to thrive with high demand for takeaways of their pork.  
Giving back to the Welsh economy
Back in Wales, we are proud of the part we play in giving back to the Welsh economy. We recently re-visited two thriving businesses in South Wales. They reflected on the difference our support made when starting out in self-employment. 
Dave Marchant, Coed Cae Services, said: "My mentor gave me advice, was inspirational and really gave me the confidence to start the business and to give up what I was doing before and take that risk. I think that reassurance and ongoing support has been just terrific." 
Linda Wongham, Assisted Mobility Services, said: "We had quite a number of meetings [with our mentor] before we started trading, during and after. He just pointed us in the right direction and any queries and worries we had, he soon alleviated them. We were on the right path anyway but just having that back up from PRIME Cymru, it meant the world."