Are you over 50 and looking to set up in business, find employment, or develop skills through training and volunteering opportunities? PRIME Cymru can help.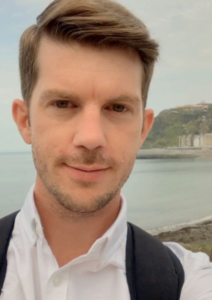 PRIME Cymru Development Officer, Tom Hughes-Lewis.
Here's a guide of what to expect from your first PRIME Cymru appointment. 
Once you have reached out to PRIME Cymru, you will be placed with your local Development Officer. To see who your local Development Officer is, visit our guide here: Employment – PRIME Cymru. 
An initial meeting with your Development Officer will be arranged, either in person or online. The Development Officer will go through some initial questions with you, to get to know your career history and your future aspirations.  
These questions will include: 
What is your current employment status?

 

Are you looking to find employment, become self-employed, or become a volunteer?

 

Is there any other support you may need? 

 

What education and qualifications do you currently have?

 

What additional skills or training do you need to reach your desired goals?
At this stage the Development Officer is simply trying to get to know you, to find what sparks your interest.
PRIME Cymru Development Officer, Tom Hughes-Lewis, says his "main priority is getting to know the client and finding out their interests to ensure [he] can recommend job opportunities that will both interest them and suit their lifestyles. If they can enjoy their job role, career longevity is far more likely." 
Once you have answered the initial questions, your Development Officer will help you to identify your next steps. They will also make you aware of any relevant opportunities and resources that are available to you. 
A second appointment will then be arranged, for you to see your Development Officer again soon. Depending on the next steps identified for you, this appointment could range from an interview techniques workshop, a guide to creating a CV, an introduction to your PRIME Cymru Mentor, or simply a catch up to see how your job search is going. 
This appointment will usually last no longer than half an hour.  
Development officers are available to their clients through email, phone, text or WhatsApp. 
To book your first appointment, call 01550 721 813 or email: enquiries@primecymru.co.uk