Nick Bradley gives an insight into mentoring a new business
Nick Bradley is a seasoned businessman with experience running an electronics company, robotics business, contract research & development company and a marketing consultancy.
As a PRIME Cymru volunteer mentor, he used this expertise to help Dr Dafydd Jones turn his passion for beekeeping into a thriving business – Anglesey Bees.
When I first met Dr Dafydd Jones, he was contemplating resigning from his teaching post and was feeling very hesitant about his future.
We decided to concentrate on his passion for beekeeping and his keenness to share his knowledge with others. From these beginnings came the idea of running classes in both English and Welsh and also possibly offering B&B accommodation to bee enthusiasts.
Dafydd had the frame of a shepherd's hut and having resigned he began work to convert it into self-contained eco-friendly accommodation. At the same time, the house was reconfigured to provide two double rooms with en-suite accommodation.
Dafydd has also found time to convert an old outbuilding into a small studio workshop and lecture theatre which now holds up to eight people for his "Bee Experience" courses.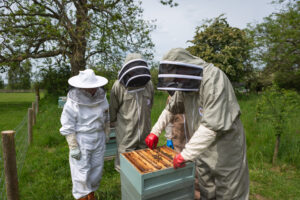 With his renewed energy, Dafydd placed additional bee hives at five local tourist destinations, including Plas Cadnant Hidden Gardens, which he now supplies with their own branded honey. In collaboration with Scouts Cymru, he has also established an apiary on their campsite on Anglesey and in due course will be delivering presentations on beekeeping to their members.
Discussions during our mentoring meetings have covered a broad range of subjects including finding an accountant, comprehending planning regulations, cash flow, website design, pricing, competitor analysis and marketing.
Dafydd now has a viable and expanding business. He is planning to set up an online shop to expand his sale of honey and range of hive products and to install two more shepherd's huts as additional accommodation for his courses which are booked well into 2022.
With the enthusiastic support of his wife, Dawn, the family can see a bright and exciting future ahead. Dafydd is a changed man. He is now brimming with confidence and infectious enthusiasm and it is a pleasure to still be working with him.