Llangors locals have received free First Aid and Food Hygiene training from charity PRIME Cymru. 
The qualifications have allowed volunteers at the new village shop to work confidently in the café and retail areas.  
Siop Llangors opened its doors in November 2021 and has quickly become a social hub within the community. 
Manager, Rebecca Bates, said: "Particularly for the elderly members of the community, the shop has changed their lives. They don't feel so isolated as they now have somewhere to socialise. They can walk to get their shopping and have a chat with the locals." 
Running the shop is a big community effort and they now have a diverse bunch of 60 volunteers, aged between 18 and 80.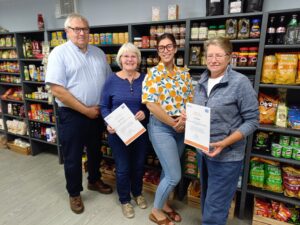 PRIME Cymru Development Officer, Mike Evans, helped volunteers to achieve their First Aid and Food Hygiene certificates. 
He said: "If you invest in your volunteers, you get better volunteers. It's important that they receive training as you have to protect your business." 
Volunteers Ann Reese and Rose Steward said: "The course was great and very interactive. Mike was very easy-going, and we could do it all at our own pace. 
"We now feel prepared to work in any area of the shop." 
The shop is as sustainable as possible, sourcing locally produced goods such as honey, bread and ale from within a 6-mile radius. The café is also eco-friendly, with the coffee grounds even being used to help grow the vegetables sold in store. 
You can find the shop next to Llangors School, or read more online at www.llangorsshop.co.uk. 
PRIME Cymru's free training is funded by the European Social Fund through the Welsh Government. For more information about accessing the free training, you can visit www.primecymru.co.uk, call 01550 721813 or email enquiries@primecymru.co.uk.